---
Global temperature graph by Stephan Okhuijsen, comparing 1880-2016 monthly observed global temperatures (NASA GISS dataset), including annual and 30-year (centred) average to 3 differently defined values for the 'Real' Global Temperature – against a background of (rising) atmospheric CO2 concentration. Click image to see full resolution graph. Please link to original article at Bitsofscience.org.
---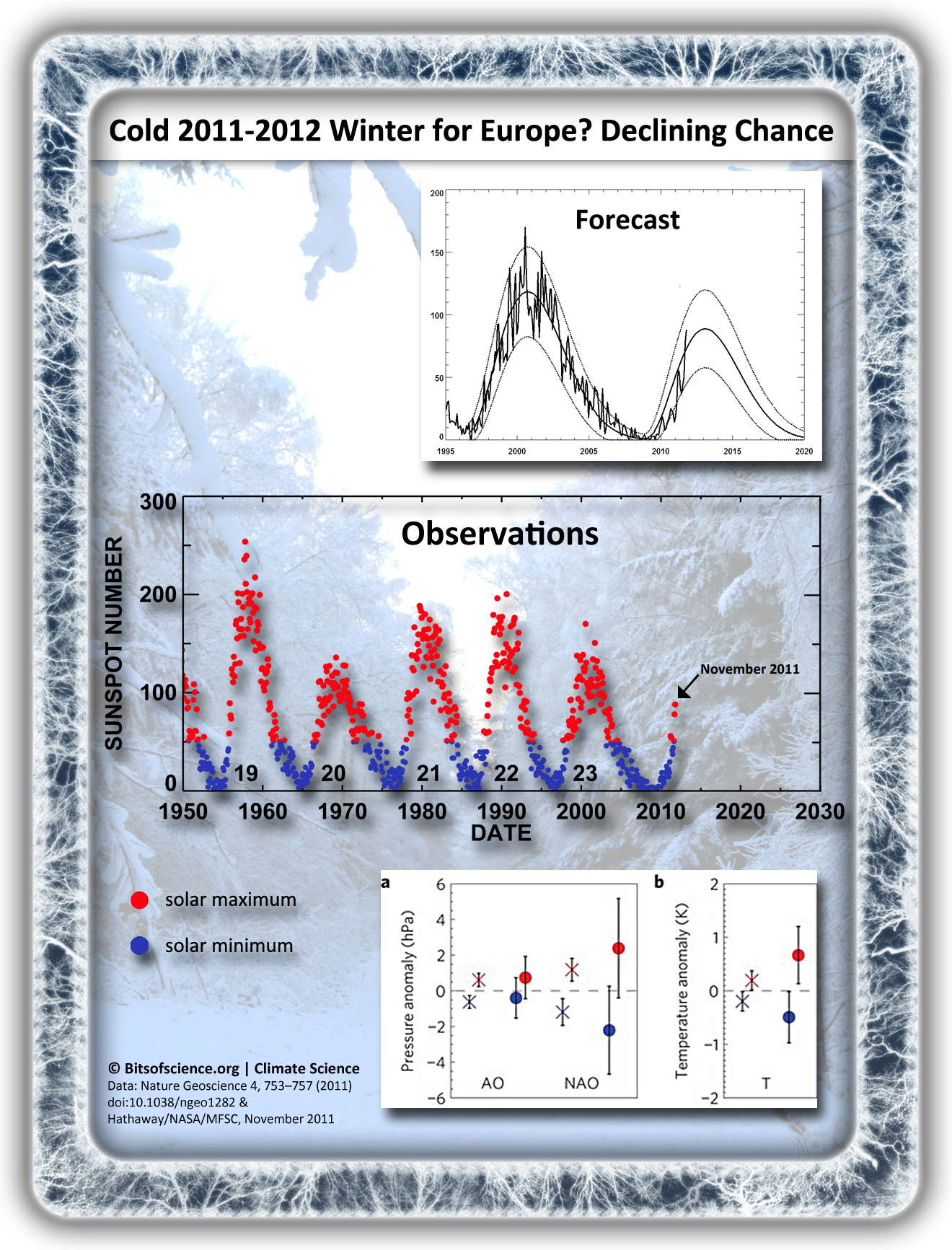 Explanatory infographic by Jorn van Dooren. Based on recent scientific literature and ongoing NASA sunspot observations, chances of having a cold weather scenario in the European winter of 2011-2012 are slim. Climate | Geoscience | Science Communication
---
Illustrative infographic by Jorn van Dooren about birth of world's 7 billionth inhabitant. With around 75,000 births per day India has the highest chance of any country to reach the population milestone. Demography | Resources
---

Explanatory infographic by Kate Snow. Population sizes of Russia, Nigeria, Pakistan and Indonesia for 2011 an 2031 – compared to respective land mass. Illustration for article about the three upcoming population giants. (Meanwhile the Russian population is in decline.) Demography | Resources
---
Explanatory infographic by Jorn van Dooren showing presumed delayed effects from 2010-2011 La Niña and colder Atlantic Gulf Stream to witnessed 2011 Northwest-European weather extremes (early dry & sunny spring, early summer temperature peak followed by downpours) expressed in temperature and precipitation anomalies. Climate | Science Communication
---
Conceptual science infographic by Kate Snow. Detail from larger work. Demography | Energy | Resources | Technology
---
Explanatory geoengineering infographic by Jorn van Dooren. Illustration to BOS article. Geoengineering | Climate | Science Communication
---
BITS OF SCIENCE INFOGRAPHICS | CONDITIONS OF USE
Bits Of Science Infographics are intended to illustrate our science news in our broader attempt to communicate interesting and perhaps important research findings, with respect to science, sustainability and the state of our planet. We therefore feel redistribution of these infographics could be a good thing – as long as credit goes to those who spent their late hours reading, thinking, designing and drawing. Online reuse of Bits Of Science Infographics is therefore -only- allowed under the strict condition of a clear source reference and a hyperlink to www.bitsofscience.org. If you want to use our science infographics in your print media, you can contact us via the info mail address to receive the original vector file.
---
Please click here if you need a custom Science Infographic designed.
---
© Bits Of Science Infographics | www.bitsofscience.org